Environment Day - AnB
Published: 5 June, 2021 | 2 mins(s) read | Tags: #Art #Cartoon #Malayalam
---
This cartoon is part of my AnB cartoon series and was done on 2017. Republishing it here since I think it is still valid.
License: This art is licensed under the Creative Commons Attribution-ShareAlike 4.0 International (CC BY-SA 4.0) license.
The Preface
Long back in 2013, I decided to start a cartoon series. The reason behind was that I am too lazy to write about things I need to convey with peeple, and a picture is worth 1000 words and thus a cartoon series. Initially my intention was to simplify the FOSS technology related things to common people through the cartoons. In order to create a cartoon series I need to create consistent characters like Calvin and Hobbes or The Common Man or Boban and Molly.
Since I was not an expert cartoonist to bring characters out of the imagination, I went with real life characters in my life. Making two of my friends Abhishek Jacob as Abhi and Balasankar as Balu as the lead characters and named it as അഭിയും ബാലുവും (Abhi and Balu) a.k.a AnB. The series was unfortunately discontinued from 2017. Hope I could give it a fresh look and revive it soon. See the old AnB cartoons in my old blog
The Environment Day
This was the last cartoon in the AnB series published for the 2017 Environment Day.
In the cartoon Abhi and Balu speak on an environmental day. The dialogue of the duo goes like this:
Abhi:
"We also made the Environment day awesome after planting this sapling"
Balu:
"Planting a sample is not enough Abhi, We need to nature it and protect it as well…"
"We who plant this sapling only will be cutting it down on October 2nd in the name of cleanliness drive"
Abhi:
"True… Those which are left apart will be cutdown by the national employment scheme workers"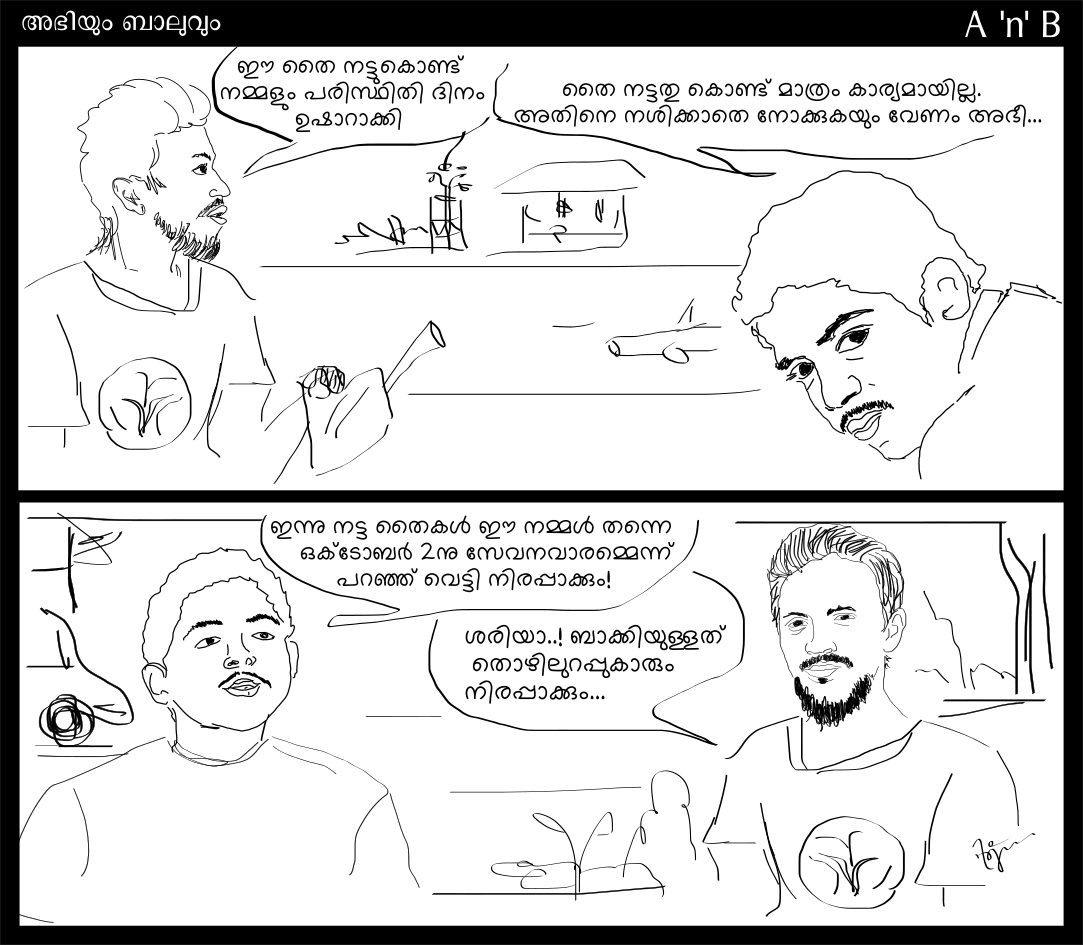 Lets not only plant the saplings but also nature and protect it!

Any Comments on the article? Let me know @arkarjun.